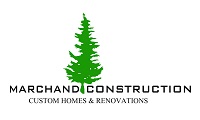 MARCHAND CONSTRUCTION
OFFICIAL SHOW CONTRACTOR
Marchard Construction is a Boutique remodeling firm dedicated to sustainable construction practices.Starting with Design meant to stand the test of time and using advance building products and techniques, we hope to create the perfect home for each client that will last generations. marchand.construction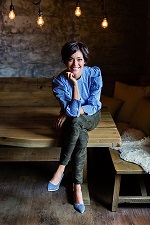 FEATURE PARTNER
JENNIFER WOCH
HOUSE OF j INTERIORS
Jennifer Woch proudly launched House of j Interior Design in 2013. Jennifer has been an interior design consultant in her hometown of Edmonton since 2002. House of j offers complete professional interior design services for both residential and commercial realms. Gathering her inspiration from her clients, Jennifer loves helping them articulate their dreams for their space!
www.houseofjinteriors.com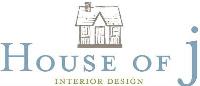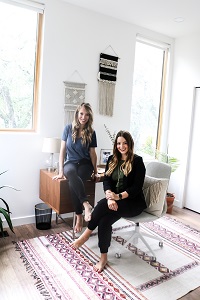 FEATURE PARTNER
JESSICA KENT + ELYSIA MACDONALD
THE GLAM SHACK


We're sisters born and raised in Edmonton, Alberta and love creating beautiful living and party spaces!

Elysia is an interior decorator at Bella Casa Design Centre, a family business where she followed in the footsteps of our mother, Karen. She is a mastermind in textiles and is everyone's go-to gal for the latest trends. Elysia is a new mom with her son Jack, but still finds time to get out of the house to help clients make their home dreams a reality!

Jessica uses her creativity on a day-to-day basis in a slightly different way. She is a reporter for the Edmonton Oilers but in her spare time, loves putting spaces, DIY projects and tablescapes together – whether it's in a home or event space, she is constantly looking for inspiration for her next project!

www.theglamshack.ca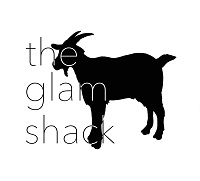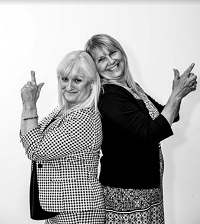 FEATURE PARTNER
MOJO DESIGN INC
MoJo Design Inc. is a full service interior design and renovation firm created by 2 amazingly talented local designers and business women, Maureen Wright (Mo) and Johanne Lewis (Jo).

Maureen brings to the company over 25 years' experience in the design field; ranging from flooring, window treatments, kitchen renovations and full design services.

Johanne brings over 25 years of business experience together with 5 years running a Home Staging business (formerly Creating More Space) and full design services.
In early 2010 Maureen & Johanne decided to merge their wealth of experience and started MoJo Design Inc.
Their vision and purpose is to build lasting relationships with their clients. Trust and integrity lie at the core of their beliefs and it is important to them that their clients are satisfied and enjoy the environment that they have created for them.
With an extreme passion for design, these ladies believe that giving back to the community is of the highest importance. "Communities are only as good as what you put into them." These ladies have put in their time, whether it is to support at risk youth in our community via CPC – Uncles and Aunts and the Vignettes Design series; decorating fabulous homes on the Homes for the Holidays tour to support local women's shelters; or working with the Children's Wish Foundation to bring extremely sick children's dreams to life. These women are the epitome of what it takes to build strong communities.
Have you had your home MoJo'd yet?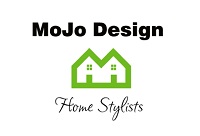 www.mojodesigninc.com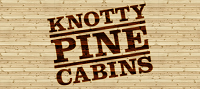 FEATURE PARTNER
KNOTTY PINE CABINS
Have you been dreaming of your very own quiet escape in the woods, or a relaxing cabin by the lake? At Knotty Pine Cabins, our quick and easy-to-assemble packages make your dreams of owning a cabin or custom home a reality. Knotty Pine Cabins was founded in 2007 by Andre Depelteau. Starting in a small St. Albert Warehouse, it all began by building small guest cottages for lake lots or weekend retreats and since then has progressed into building year-round custom residences up to as much as 3000 square feet. We pride ourselves in being a family owned and operated Canadian business with our head office and show home now located in Edmonton, AB. We are committed to serving Canada with friendly customer service and the highest quality craftsmanship. At Knotty Pine, we make the building process quick and easy by helping you design and price your package as well as offering assembly to the lock up stage. We are there to guide you through your custom building process for every step of the way. We truly are Cabins Made Simple!

www.knottypinecabins.ca

FEATURE PARTNER
REVOLVE FURNISHINGS
Self-expression, individualism and the desire to stand out are the founding principles of revolve furnishings. Visit our large, modern showrooms and you'll quickly discover that we exude an upbeat energy that boasts a passion for life. We view furniture as part of the fashion industry and we continually introduce new furnishings to stay on trend. revolve's designers and decorators are trained to help you plan and create your own unique Dreamspace. Because, after all, cool rooms don't happen by accident! think sexy. be rebellious. redefine modern.

www.revolvefurnishings.com

CORPORATE TICKET PARTNER
The REALTORS® Association of Edmonton (RAE) represents more than 3,500 real estate professionals serving the Greater Edmonton area. The Association takes prides in the role it plays in making a difference in the communities RAE members live and work within. Whether you're buying or selling, REALTORS® are here to help you navigate every step of the process with confidence and peace of mind.
https://realtorsofedmonton.com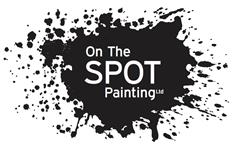 OFFICIAL SHOW PAINTER
ON THE SPOT PAINTING
On The Spot Painting was designed was designed to make hiring a painter as easy as possible. We offer experienced and quality painters that show up professionally dressed and with the proper tools needed to complete your job. We save you, time, effort and most importantly money! No job is to big or to small!
www.onthespotpainting.ca/

WORKSHOP PARTNER
TWO BUDS FLORAL ARTISTRY
Margaret-Ann Hinkley, owner of Two Buds Floral Artistry, has over 10 years experience in Edmonton's floral design industry. Two Buds is growing rapidly in wedding and special event design, but in
Margaret's small studio space as a young entrepreneur - or a floralpreneur - she has a vision for design trends, innovative designs and using natural and local materials in a creative way that best represents the changing seasons. Margaret believes that flowers are powerful and when curated into a custom or one-of-a-kind design, there is a real sense of feeling your client's message and understanding what the flowers are supposed to represent.

Participating in various floral design events over the last 3 years and placing 2nd in the 2017 Maple Leaf Cup (a floral design competition at the Edmonton Home and Garden Show), has really given Two Buds the inspiration to show Edmonton that there is more to cut flowers than looking pretty in a vase.