Bryan's Advice: Your Forever Home
Jan 22, 2019, 14:40 PM
Bryan Baeumler's name has become synonymous to home renovations and it's no wonder why. If you've been lucky to meet him in person, you'll understand how his charismatic charm, wit and more importantly expertise has landed him numerous hit shows on HGTV. His down-to-earth relatability has made him a household name for so many DIY , reno-loving Canadians and his fan-following just can't get enough of it! From House of Bryan, Disaster DIY, Leave it to Bryan and now, Island of Bryan, Baeumler has been sharing his industry knowledge on-screen for many years-- we got to catch him behind the scenes for some insight on what usually is the top renovation project for homeowners each year: how to create your forever home.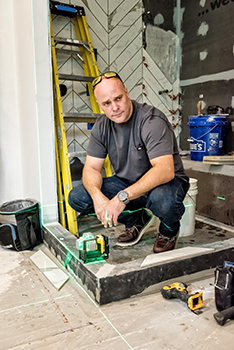 Knowing when, where, and how to start a big home renovation is difficult. Bryan's number one suggestion when planning your New Year's home revamp? "Invest in a forever home! Renovate for the love of something and not just for the ROI." Bryan continues: "I've noticed that people are getting a little bolder, whether it's because times are a little tougher lately for a lot of us, we want to save some dollars where we can." Bryan is adamant about investing in the space you spend the most time in: "People are starting to realize that their homes are the biggest assets they have and we need to take care of them and grow our investment. But always design with your personality and taste. After all, you're living in this home for hopefully a very long time!"
Home trends here to stay according to Bryan are still open concepts. "The open concept kitchen/living area is here to stay. The Living Kitchen is what I call it. The classic 'kitchen stuffed in the back of the house', is no more and people are moving more towards a living space where you can also cook and entertain." It's important to consider your lifestyle when going through your renovations. Which spaces in your home do you tend to spend the most time, the least or the rooms you should be utilizing and maximizing more. In the long run, these investments will keep you loving your home for longer.

Creating your forever space is fun but can be challenging. Do we always need to be worrying about re-sale value? Not when you plan on staying forever! For more renovation tips and to catch Bryan on the Main Stage, visit us at the Edmonton Renovation Show January 25-27th at the Edmonton Expo Centre! Buy your tickets online and save $2!
JANURAY 25-27, 2019
EDMONTON EXPO CENTRE