New Leash on Life: Pet Friendly Homes
Jan 24, 2019, 18:03 PM
When it comes to your furry family members, they are often the kings and queens of the house (although we hate to admit it). Creating a stylish home for both human and animal can be a challenge, especially if the fur-babies love to shed, slobber and scratch-- we love them regardless, we promise! Here are some tips and tricks on keeping your design dreams alive and while your pets (and sanity!) stay happy.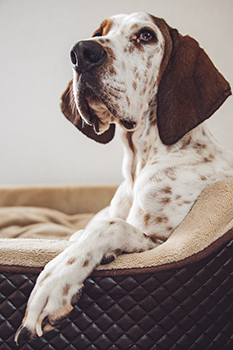 Consider your fabrics
If you have a furry animal that loves to shed, we suggest sticking with wood flooring or tiles where possible. Carpet loves to cling onto hair and odor, and choosing wood or tile will save you all the vacuuming. However, if you love the soft feeling of carpet in your home, consider adding rugs to reduce the areas where hair can linger. Consider choosing fabrics that will mask hair and are of similar colouring to your pet.
Stains are sometimes just a part of owning a pet, but at least we can hide them with patterned materials or colours that will help camouflage them! No nubby, loose woven or delicate fabrics if you can-- these can be easily snags, clawed at or chewed. Leather, although easy to wipe down is prone to scratch easily and can seem inviting to our little chewers out there. Throw blanket specifically used only by your furry friend to go over the couch are also a great way to protect furniture and hopefully centralize the shedding/odor to one area.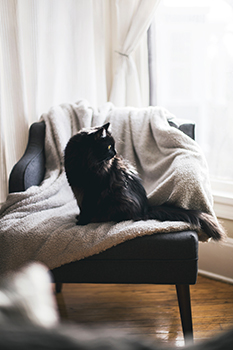 Stay on theme
It can be hard to make your puppers bed look trendy, or a cat scratcher less of an eyesore. Your pets want to be stylish too! Climbing tree and wall perches can be seamless additions to your space: use hardware and colours that compliment your home design. For your pooch's empire, consider elevated dog beds or dog sofas which can have great metallic or wooden accents. For classic dog beds, think of them as another throw pillow, what patterns, accents and colours would look great in your home and stay on theme? You can have fun with texture and patterns here with dog beds often coming with removable, washer friendly covers!
Give your furry member the upgrade they deserve! For more ideas on pet friendly homes, come down to the Edmonton Renovation Show January 25-27th at the Edmonton Expo Centre to check out the New Leash on Lifestyle feature designed by Mojo Design Inc! Buy your tickets online and save $2!

JANUARY 25-27, 2019EDMONTON EXPO CENTRE