Nailing it with NAIT
Ever watched your favourite renovation show on TV and thought: "I could do that!", then tried it yourself and wish you called an expert? Although tackling a project yourself can seem like the best way to save money on your renovation, by not calling in a professional, homeowners often find themselves spending a lot more.
The Edmonton Renovation Show is a firm supporter of the Trades Industry. We believe in the value of hiring skilled professionals when it comes to your home improvement projects and are excited to be supporting the Northern Alberta Institute for Technology (NAIT) at this year's show. NAIT in Edmonton is a leading Canadian polytechnic whose programs in carpentry and cabinet making see thousands of students annually. They're shaping the next best and brightest in the home-improvement world and we can't wait to see their skills in our ALL NEW Nailed It! feature.
At the Nailed It! feature, NAIT students will be showing off their talent in two live skills competitions: one showcasing apprentices in cabinetmaking and the second in carpentry. NAIT instructors will also be on hand to provide rationale and answer any questions from show-goers. Winners will go on to the Skills Canada National Competition.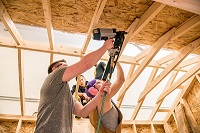 The skills from students are not to be taken lightly: "The Skills Canada National Competition is essentially the Olympics of trades," explains NAIT Dean, Malcom Haines. "We have individuals competing at the provincial level who progress to the national level and even international thereafter at WorldSkills. The competition is intense, the caliber of skill is remarkable and the students deserve all the recognition."
It's no surprise that technical schools are evolving and trades workers continue to be vital to our communities and our cities. "You would find it very difficult to identify an area of our daily lives that has not been touched by a tradesperson," says Malcom. "They are responsible for physical structures like residential housing, to office towers. Trades keep the world of transportation on the move. And they even cook our food!"
Get in on the action and cheer on the next renovation superstars at the Edmonton Renovation Show, January 24-26 at the Edmonton Expo Centre. A must-attend for any Edmonton homeowners, don't miss your chance to connect with hundreds of trusted home experts and get the help you need for your home projects. We can't wait to see you at the show!
Jan 9, 2020, 16:31 PM